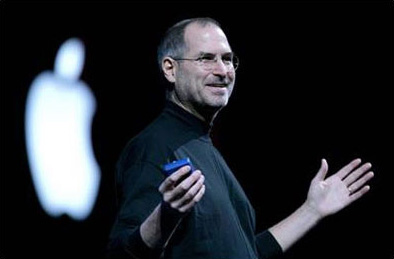 The only thing on my mommy-brain right now is Steve Jobs. Both because I have been a Steve Jobs fan for some time—watching his presentations not for the technology, but for the humanness he imbued in it—and mostly because I am deeply touched by his legacy.
From articles on news sites to the incessant posts on Facebook, everyone is paying their respects to a man that was brave enough to demand that his vision be realized. There are no politics. There are no haters. No jokes. Just the feeling of loss. And appreciation. Everywhere.
I am young, but still, I don't recall a time that a public figure's death was mourned so personally. It must be because we all feel that we've had a hand in his legacy and, moreover, that he bestowed to us many gifts that came from his essence. Steve put his heart and mind into all our hands, in the form of beautiful, functional and inspiring products that became central to both the productivity and fun in our lives. It almost feels like we have personal memories with him.
I can ramble on endlessly, but I'm stopping here for a second to try and tap into what is really moving me the most...
[PAUSE]
I think it has everything to do with how humanity is honoring Jobs right now—what it says about people today. Even though we selfishly gained from Job's vision, and have reaped the rewards of all his brilliant gadgets and gizmos, we so badly want to understand and connect to the mind behind the curtain.
Wouldja look at that. We know Jobs intimately by intimately knowing his creations.
It's reassuring to see that, although we may all be avid consumers, our world sits at a place where we can profoundly acknowledge a maker.