~*~*~
Viva

LeVouCh

ic
~~*~~
A chic look into our
levush
By Mor Binder
Come to LadyMama every week for Mor's take on all things modish...and modest!
Read more about Mor on the
author page
!
Second to finding out the tooth fairy was a figment of my parent's imagination, the greatest disappointment I have ever experienced was the realisation that Coco Chanel was a devout anti-semite and nazi collaborator. Mind you, it was not from the numerous documentaries and films replicating her life that I came across this fact, but rather in the fine print of biographies that record the French "legend." After recovering from the initial shock that saw me wishing I owned a Chanel item just so I could throw it out, I scouted around for a console on how this slight detail, of a very large epic, could perhaps be false.
Despite being comforted by numerous retorts(the most common amongst them being "well you never know maybe she didn't have a choice"), nothing could stop Rabbi Winner's words resonating in my mind. In response to girls' complaints regarding false accusations, his answer would always be "well they don't say these things about Mushky Cohen*" - an extremely quiet yet well behaved girl, whose head was more often in the books than out for fresh air. History supports the claim, "where there's smoke there's fire." In this case, many sources detailed Coco Chanel's affair with Nazi officer Hans Gunther Von Dicklage and her subsequent move into Paris's Ritz Hotel, the German headquarters during their invasion of france in WWII. To settle all qualms that this was possibly an act of misguided romance, Chanel also acted as an ambassador to the German intelligence, taking part in a secret peace mission involving Winston Churchill. Following France's liberation, Chanel was charged with war crimes, but was dismissed under mysterious circumstances, most likely Churchill's intervention.
Chanel's "Tznius" Influence on Fashion
You see, it wasn't just Chanel's immense impact on the greater fashion world that led to my admiration of her. I had always held her in high esteem for her positive influence on fashion through
tznius
lenses. She was the driving force behind the shift from bust hugging corsets and figure constraining seams to comfortable everyday fabrics and cuts, encouraging women to dress for their own comfort rather than for the fancy of men's prowling eyes. Her signature classic cut suits, most often seen in tweed patterns during the early years, are still wardrobe staples, dressing many of our Rebbetzins, mothers and bubbies. To this day, the house of Chanel carries a sophisticated, elegant style significantly differentiating it from the more modern promiscuous up-and-coming labels.
Chanel: Jewish Owned?
So what do we learn from someone who vehemently disliked Jews yet benefitted their cause? This story goes in line with the blueprint plot of the majority of our Yomim Tovim: "They wanted to kill us, we fought, we won, let's eat!" For from its early beginning and up until this day, the house of Chanel is a privately owned Jewish family business raking in an estimated $2 billion net worth of profit per year.
How you might you ask? Not short of a Yiddishe Kop, successful businessman Pierre Wertheimer sensed the rising success of Coco Chanel, and in 1922 funded the first venture of branding a perfume with a designers name, creating Chanel No. 5. Chanel owned a 10% share of the company, which Wertheimer bought out in 1924 after her attempts to gain a greater share. Despite giving up the rights to her name, Chanel still received a 2% royalty from all Chanel products, making her a significantly wealthy woman. Wertheimer muted her claims that she was being exploited of her talents by reminding her that without his endowment (which he did not ask her to repay) her business would never have had the chance it did to succeed. Anti Semitic sentiments, particularly towards the Wertheimer family, were refuelled during the Second World War when she attempted to use the law banning Jews from owning businesses to seize control of the company. Once again, Wertheimer was a step ahead, having arranged an Aryan proxy to run affairs while the family fled to America. At the war's conclusion Wertheimer successfully regained full control of the business.
Chanel left the world childless, without any heiresses needed to inherit a name that did not belong to her. There is no denying the legacy she left to the fashion world. However, despite her wishes, the brand rests control in Pierre Wertheimer's grandsons Alain and Gerrard who are said to have a combined net worth of $8 billion. The press-shy and discreet brothers seem to be swayed to good old family values, maintaining Chanel as one of the only privately-owned, family-run businesses in the cosmetics and apparel industry. Topping the pie with a cherry on top, the brands creative director Karl Lagerfeld (hired by the Wertheimers in 1983) is said to have Jewish ancestry, with some sources listing him as entirely of Jewish descent.
So, to wear or not wear?
The question still remains. With due respect, one must take note of the many holocaust survivors who felt driving Golfs and Mercedes was an abomination of our ideals. No clear
horaahs
from the Rebbe could be found on this matter, leading me to believe that this is perhaps a decision based more on emotional sentiments rather than rationale. Personally that double C logo will never resemble the same luxurious image in my mental wardrobe again. But until such time that
Hashem
showers me with the blessings to afford to make such decisions, browsing the glamorous looks created by the Jewish-owned - perhaps Jewish-run -house never hurt a girl's imagination.
~~~~~ ~~~~~ ~~~~~ ~~~~~ ~~~~~
Chanel Resort collection, 2011
Lagerfeld pulled off yet another refreshing and quintessentially picturesque ensemble at this year's Chanel resort collection. Perfectly situated in the sun soaked city of St Tropez, the show saw models journey in on A-class motorboats ready to casually strut their pins down the street style runway, presenting a collection that saw the 70's, grunge rock and bohemian styles meet, greet, shake hands and celebrate humanities effervescent craving to holiday. Caftans in frenzied pastals, long crocheted dresses and white lapelled ruffle dresses pinned against a sea of buttoned, tanned and patched accessories, offer just a few of the many looks from this up-beat celebratory show that can be adapted into the tznius wardrobe.
SHOP THE LOOK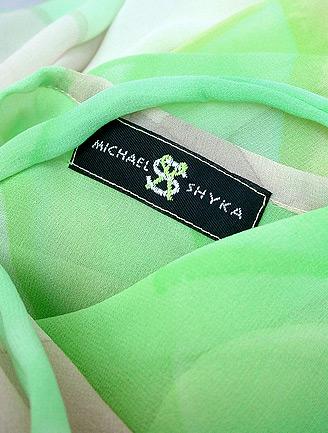 PONY STUDIO
BY MICHAEL SHYKA
CAFTAN CHIC
$365
Diane von furstenburg
www.couture.zappos.com
$189.05
Kimchi blue tassel purse
Urban Outfitters
$38.00
ASOS Mega Pack of Wooden and Enamel Bangles
Asos.com
$25.36
Haute Hippie
Mixed Fringe Necklace
Shopbop.com
$97.50